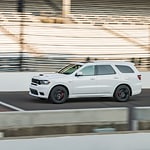 One popular three-row SUV available is the Dodge Durango, which is designed for great performance. This SUV is designed for especially impressive performance with its shifting efficiency and towing performance features.
Shifting efficiency can enable your vehicle to take driving effectiveness to the next level. The Dodge Durango has an eight-speed automatic transmission with an installed electronic T-shifter. The eight-speed transmission and T-shifter combination allow smart gear selection for an easy shift while driving.
Making sure you can tow everything you need to is an important check to make, which is why the Dodge Durango has a variety of high-strength towing capabilities available. You can choose a powerful towing option such as a 3-ton towing capacity with a 3.6-liter engine, or for the maximum sized loads you could get 4.5-ton capacity with a 6.4-liter engine. If you want to see how these performance work in person, try taking a Dodge Durango for a test drive today.